My home town is west of New York by 10 miles, so for a long time I've wanted to run the NYC marathon. After 911, I had another reason to do it - to honor New Yorkers for their losses and for their spirit in bouncing back.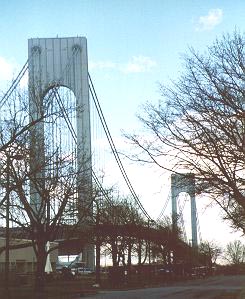 Fig. 1. Verrazano-Narrows bridge linking
Staten Island and Brooklyn.


Well, I wasn't invited (I wonder why). So the lottery was my only chance. And I wasn't chosen. By the time I found out "NO," running a marathon earlier in the fall seemed too close. Still, I thought about the Chesapeake Bay & Bridge Marathon, Year 2. I'd like to run it again.

Things kept happening to delay late summer training. I caught a bug a few days before the Rock 'n Roll Half Marathon in Virginia Beach on August 31. All seemed to kiss the Bay Bridge goodbye, but I kept training for something, not knowing what.

Then came this email in September - New York is expanding the field another 1000 runners (ultimately, the number of finishers was 34,729), so say yes in 14 days if you want to run it. I waited to answer, while testing 2 more weeks of training - would I be ready? The decision was "yes - barely."

Training went fairly well, I thought. I wondered only how to arrange the logistics. My brother and family live near Princeton NJ - I could stay there, but there was no indication any of them would attend the race. But in the last day before leaving for NY and NJ, my wife said she would come, and my brother and family decided to get involved.

From NJ, my nephew drove me to NYC to pick up the race tag. Man, was he excited about the whole affair. By the time I was checking my chip at the Expo, he said he would like to run New York sometime, and would I run it with him! I don't think he has run more than a few races since high school 12 years ago.

It was so hot the day of the Expo, I realized that I had not brought a singlet to wear (thinking it would be much colder). My nephew bought me one! (I am beginning to think all my children and nephews are rich.)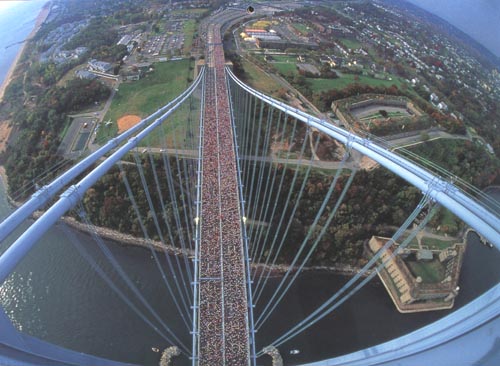 Fig. 2. Runners on the Verrazano-Narrows bridge after the start; Fort Wadsworth
staging area to right of start line. Photo from Runners World 1997 calendar.

The next morning, my brother and sister-in-law drove me to the start at Fort Wadsworth on Staten Island. In the staging area from 8 til after 9, the 35,000 runners milled around, snoozed, or ate breakfast. I talked to a guy from France whose English was better than my French. I watched the buses coming across the Verrazano-Narrows bridge bringing runners from Manhattan - they were supposed to arrive by 8, but they were still coming at nearly 9.

At 9:15 I decided to empty the tank and got in line. Somebody on stage started an exercise routine - didn't they think the marathon would be enough? The line took me 40 minutes (another 20 minutes of people were behind me). By this time the announcer was giving the last call for the starting lineup. Needless to say quite a few found ways to bypass the first line in order to get to the second one in time.

Up on the bridge, full with lead runners, a very respectable large cannon went off at 10:14 (4 minutes late). We didn't move for 10 minutes, which gave lots of people a chance to try snagging tree branches with cast-off clothing. The staging area was already littered with an assortment of clothing, including some expensive running suits (New York's homeless must look like serious runners following the marathon). It was so warm I was sweating already - mid 60's.

Finally we began moving toward the bridge. In another 5 minutes I crossed the mats at the starting line.

Running across the bridge was incredible. No vehicles, just runners and the soft sound of running shoes. It was like being on a Colorado Fourteener - I took in the lower New York harbor to the south, and to the north Manhattan lay in the distance. To the right of Manhattan, in Brooklyn and Queens the buildings were laid out like an architect's model. The sweeping panorama made this part of the run fully intoxicating.

Then we began the descent on the ramps leading to Brooklyn city streets. Suddenly we were immersed in the cheering crowds. I have never experienced anything like it. The people of New York lined the route for 26 miles (except for the bridges, closed to all but runners). This was my first race in a really large crowd - while I had expected to enjoy it, it turned out to be a totally powerful experience emotionally.

Flashback to the Chesapeake Bay & Bridge Marathon, where this year I was a spectator cheering the runners. More than a few came across the roadway that day to be able to touch my hand while they went by. So, in New York, seeing that many spectators held out their hands, I ran many miles close to the curb so I could touch people. I touched hands of little kids, toddlers whose parents held their arms out, teenagers, older people in easy chairs, and lots of middle-agers. I must have touched a thousand people that day. It is a precious memory - contact with excited New Yorkers out to cheer the runners.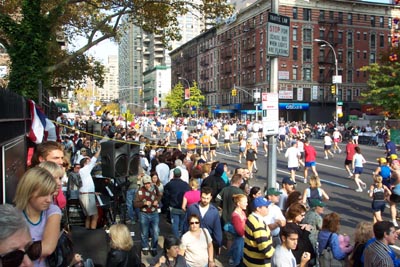 Fig. 3. Mile 17 on First Avenue.


The media said the NYC marathon is THE city-wide event of the year. It's easy to see why. The race touches all 5 boroughs, starting on Staten Island, completing 16 miles through Brooklyn and Queens, and crossing the formidable Queensborough Bridge into Manhattan. Then north up First Avenue to cross a bridge into the Bronx. After a short westward hop in the Bronx, back across the river to Manhattan. Then south along Fifth Avenue to the middle of Central Park (east side), and taking the last few miles along Park roads until a little beyond mile 25, where runners emerge onto Central Park South for a westward last half-mile, and then 800 yards north into Central Park (west side) to the finish line.

For New Yorkers it is more than just cheering runners. Spectators in Brooklyn cheer the runners as they pass, knowing that later the runners will be in Queens, and then Manhattan and the Bronx as well. Some spectators go from place to place during the race. The event unifies the city for both runners and spectators.

As one runner said as we crossed into the Bronx, "Do you realize that we have just run all the way from Staten Island to the Bronx? That's a great accomplishment. I'm really serious." He got a few chuckles. It's an interesting thought to ponder in the middle of a race - probably very few people have ever run (or walked) from Staten Island to the Bronx except in a marathon.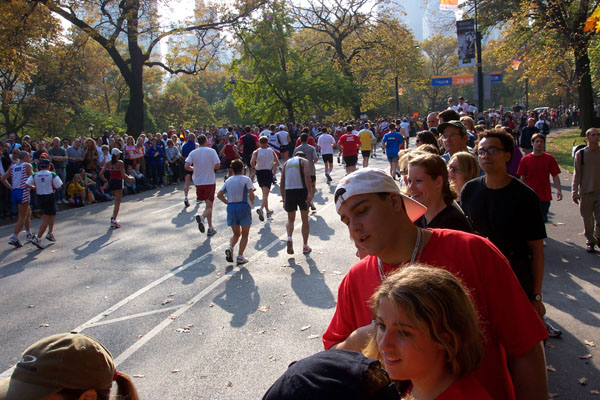 Fig. 4. Mile 25 in Central Park.


A very enjoyable part of the experience was seeing and hearing the cheering from all the different ethnic groups in the city. I heard a lot of people cheering in Spanish for runners from Mexico. And there were cheers in other languages for the French, the Dutch, and the Germans. There were groups of cheering African-Americans, Puerto Ricans, Hasidic Jews, families, individuals, and high school cheering squads. Crowds packed the streets in all different kinds of neighborhoods. There were beautiful faces everywhere.

In Queens one guy was sitting on his third story windowsill playing a saxophone. In Brooklyn a couple of guys were beating out rhythms on turned-over plastic paint buckets. There were pickup bands at several places, close-harmony singers, plus people with stereos, and a couple of large bands. At 67th Street in Manhattan, children from a cancer ward of a hospital were lined up along the curb.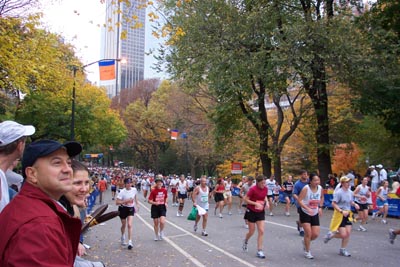 Fig. 5. 200 yards to the Finish Line.


Everywhere, there were signs for specific runners. Some runner named Amy had a huge cheering squad with the same signs at several places along the route.

The estimate is 2 million spectators. Plus a million or more drink cups. Somehow I missed all the individuals passing out oranges - I'd see peels on the street, telling me that I had just passed a Fountain of Youth.

And I needed some extra help by mile 16. As a friend said a week later when I related my outcome, "you had the Total Experience." So true. Whether it was low K, low water, not enough power bars, not enough taper, lack of speed training, low lactate threshold, or what, my last 10 miles were painful. Very. I expected discomfort later, but not that early. The second half was a third slower than the first.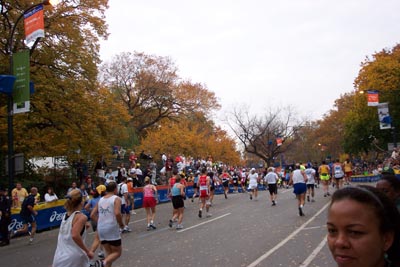 Fig. 6. On to the finish.


By mile 20 I was wondering if I'm really built for long races. There was never any doubt about finishing, but how was the question. I was hoping not to do real damage, but I simply didn't know.

Crowd support really did carry me a lot. Paying attention to the crowds made me forget my inside feelings. At mile 25, I decided to try for a better last mile, by really enjoying the crowds. Oh my, was it rich. I nearly forgot all the pain. And pushing the last 800 yards into Central Park was with pure anticipation of the finish.

Then it all hit hard. Plus there was little room on the roadway past the finish (we were fenced in for several blocks). I wished for space, but there wasn't any. In about 20 minutes I had exited the runners area onto Central Park West, handed in my chip, and found the family. I smiled on the outside (see the picture), but I wasn't smiling on the inside.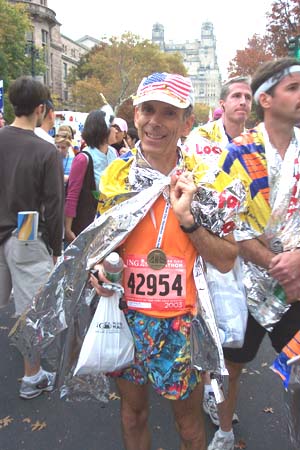 Fig. 7. After the finish.


I suppose a lot of people at my level experience the same reaction - "this was great, but not again" - for the first hour or so.

But I couldn't help thinking of the total experience, which I rate as absolutely fantastic, and so my mind soon began devising ways of doing better the next time.

It's hopeless, I am addicted to running. And the marathon is for me the ultimate running experience.

My last words of the day to a New Yorker were on West 76th Street near Amsterdam Avenue. I told a Policewoman at the intersection how much I appreciated the people of New York City for putting on a great race. Also, I expressed my condolences for 911. She thanked me. All in all it was a great day.



© 2003 John C. Munday Jr., revised from the Tidewater Striders Rundown, a monthly magazine, December 2003.
All photos but Figs. 1 and 2 courtesy of Dallas Munday.