Music for Praise and Worship
Employing music according to the Holy Spirit and Scripture

A booklet for church musicians and for all who want to experience
the fullest of God's blessings in praise and worship.

by

John C. Munday Jr.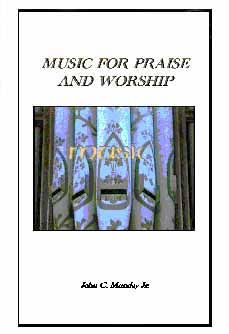 From p. 1 --


God always wants to draw us into the perfections of His will. He desires that our praise and worship touch heaven itself, so that He can release upon us a flood of His mercy and grace. To reach all that He has for us, music is a key part of praise and worship. We enhance His blessing by seeking to employ music according to inspiration by His Holy Spirit.




From p. 11 --


Music for worship takes a variety of forms, from stately traditional hymns expressing the majesty and holiness of God, all the way to the spontaneity of new songs released by the Holy Spirit through a willing singer. The opportunity for spontaneity during services is much desired, so that members of the Body of Christ can express their thanks and praise with variety and great individual freedom as led by the Holy Spirit.

Thanks and praise ultimately lead upward, until finally the congregation is drawn into the Holy of Holies and fully anointed by the Holy Spirit, and the members of the Body are fully engaged in beautiful worship of God the Almighty. God then ministers in profound ways to the members of the congregation. Drawing people into the Holy of Holies is what God wants to accomplish in worship. He wants to commune intimately with His Body.





Music for Praise and Worship
Published Chesapeake, Virginia
37 pages. $5.00 postpaid (USA and Canada).

Email to order

Or write
"Music for Praise and Worship"
1204 Murray Drive
Chesapeake, VA 23322
757-482-5709


About the author --

John C. Munday Jr. grew up in a musical family in New Jersey. His mother taught piano and encouraged him in piano from an early age, arranging lessons with her Julliard teacher Gordon Stanley. Over the years his musical activities included folk music, ragtime, and choir. He met the Lord Jesus Christ with the baptism in the Holy Spirit in mid-life and turned his musical attention to worship in the Body of Christ. He has served in various settings as a church organist, worship leader with piano and guitar, and home group leader, and Sunday School teacher. His major vocation has been as a research scientist, university professor and school administrator, including 25 years at Regent University, Virginia Beach, Virginia. In 2016 he was honored with the status of Professor Emeritus. He presently worships with his wife of 52 years at the Great Bridge Presbyterian Church in Chesapeake, Virginia.